We are... A Parish Family - Gathered in Faith - Renewed in the Spirit and Sent Forth to Serve
Mass Schedule
Saturday
5:00 PM
(Sunday Vigil Mass)
Sunday
9:30 AM
12:15 AM
Monday to
Thursday
9:00 AM
Friday
9:00 AM
Communion service only
Saturday
9:00 AM Mass

Holy Days: consult the bulletin

Children's Liturgy of the Word is held every Sunday at the 9:30 AM Mass

Confession: Saturday 4:30 PM

Miraculous Medal Novena: Monday - 9:00 AM Mass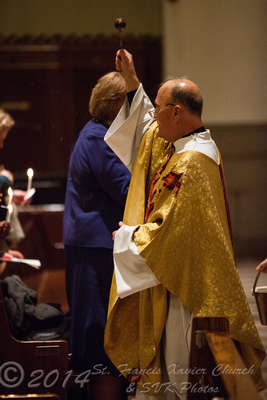 CHILDREN'S FAITH FORMATION Our Faith Formation Programs for children and teens are looking for volunteers. If you would like to help as a catechist, an assistant, a substitute or in some other way, or if you would like to simply discuss ways you can be involved, contact Sister Helene. Please consider joining this meaningful ministry. We need you!

LECTURE SERIES October 6 - 7:30 pm at St. Augustine Church: Kerry Weber on Mercy in the City. Kerry is the author of "Mercy in the City: How to Feed the Hungry, Give Drink to the Thirsty, Visit the Imprisoned and Keep Your Day Job"
Join us for this inspiring and challenging talk. All are welcome! Sponsored Jointly by St. Francis Xavier and St. Augustine Parishes
RITE OF CHRISTIAN INITIATON OF ADULTS
Begins in September The RCIA program provides an opportunity for interested non-Catholics to learn about the Catholic Faith and for baptized Catholics who have not yet received Confirmation or Eucharist to prepare to do so. If you or someone you know might be interested in finding out more about the RCIA process, please contact Sister Helene. Spread the good news about this process!
SFX PARISH SOCIAL
Saturday, October 25th at 6PM we will be holding our Parish Social. Please save the date and look for more information in upcoming bulletins.
PICTURES FROM OUR PARISH
Check out the Zenfolio pictures site for St Francis Xavier.


[Note: Zenfolio requires a free registration of its visitors, just name and email address.]
ST. FRANCIS XAVIER SURVEY RESULTS We launched a Parish Participation and Engagement survey this spring when we distributed paper surveys after Palm Sunday Mass and circulated a Survey Monkey survey to our Parish e-mail distribution list. We are pleased to share that with 90 survey respondents, we reached our response rate goal of approximately 20%. Thank you for taking the time to respond and to share your candid and valuable perspectives and suggestions.
ST FRANCIS XAVIER ON FACEBOOK!
Come share your thoughts, pictures, video etc. with the online community
SUPPORT ST. FRANCIS AUTOMATICALLY
Automated Giving: Visit the ParishPay Website or call 1-866-PARISH-1 for more information or to sign up. Here are their Frequently Asked Questions on giving.