We are... A Parish Family - Gathered in Faith - Renewed in the Spirit and Sent Forth to Serve
Mass Schedule
Saturday
5:00 PM
(Sunday Vigil Mass)
Sunday
9:30 AM
12:15 PM
Monday to
Thursday
9:00 AM
Friday
9:00 AM
Communion service only
Saturday
9:00 AM Mass

Holy Days: consult the bulletin

Children's Liturgy of the Word is held every Sunday at the 9:30 AM Mass

Confession: Saturday 4:30 PM

Miraculous Medal Novena: Monday - 9:00 AM Mass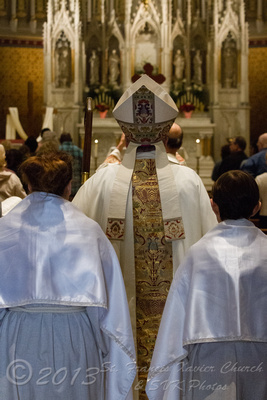 SUNDAY AT THE MOVIES: SAVE THE DATE Sunday, February 12th at 2:00PM in the rectory St. Francis Xavier's Sunday at the Movies: Faith in Film series will present a special screening of He Named Me Malala, the 2015 documentary about Pakistani teenager Malala Yousafzai, whom the Taliban tried to kill for going to school. Please save the date. Admission is free and all are invited.
WINTER ISSUE OF OUTREACH (pdf, 1.2MB). Printed copies available in the vestibule. Browse back issues.
VOLUNTEERS NEED FOR FOOD PANTRY DELIVERIES Thursdays Volunteers are needed to help with food deliveries on Thursdays for the St. Augustine Helping Hands Food Pantry. There are usually two big deliveries a month — 75 to 150 cases of food. Volunteers are needed to help store the food. If available, please leave message at food pantry: 718-783-3132, ext. 42, or send email to: helpinghandsfp@gmail.com
SERVING OTHERS Monday evenings at 5:30pm Visit the elderly at Hopkins Nursing Home in Boreum Hill. Prepare meals and visit the homeless near Grand Central Station on Tuesday evenings at 4:30PM. If you are interested in learning more, email Ashley Moloney.
ST VINCENT DE PAUL PANTRY NEEDS DONATIONS Can you please help us? The St. Vincent de Paul at St. Francis Xavier cupboard is low on food. We are in need of some canned vegetables, tuna, macaroni and cheese, oatmeal, peanut butter and jelly, and instant coffee. Please bring donations to the rectory or to mass on Sundays.
IN NEED OF SOME PRAYERS? St. Francis Xavier is happy to announce LaMP: Loving and Merciful Prayers. A Support Ministry, beginning now in our parish. You can request prayers for your private intentions from an anonymous prayer partner by two different methods:
1. Look for our prayer request forms in the back of the church. Place your request in the marked box. OR
2. Submit your prayer request through our email address: LAMP@stfxbrooklyn.org. A coordinator will assign a prayer partner for you who will pray for you and your intention for one month.
If you are interested in being a prayer partner yourself, please fill out a volunteer form available in the back of the church and leave it inside the LAMP box. Please know that our prayers will be with you.
SUPPORT ST. FRANCIS AUTOMATICALLY
Automated Giving: Visit the ParishPay Website or call 1-866-PARISH-1 for more information or to sign up. Here are their Frequently Asked Questions on giving.