We are... A Parish Family - Gathered in Faith - Renewed in the Spirit and Sent Forth to Serve
Mass Schedule
Saturday
5:00 PM
(Sunday Vigil Mass)
Sunday
9:30 AM
12:15 AM
Monday to
Thursday
9:00 AM
Friday
9:00 AM
Communion service only
Saturday
9:00 AM Mass

Holy Days: consult the bulletin

Children's Liturgy of the Word is held every Sunday at the 9:30 AM Mass

Confession: Saturday 4:30 PM

Miraculous Medal Novena: Monday - 9:00 AM Mass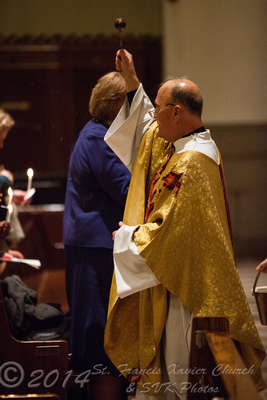 PRAYER SHAWL MIINISTRY The Prayer Shawl Committee will have hand-crocheted and knitted shawls available after Masses next weekend, November 22nd & 23rd. Please stop by our table to take one as a gift for a friend, relative, or loved one in need, or if you'd like one for yourself. Donations are welcome but not required. We will have printed cards available with a blessing for each shawl as well.
JACK'S SANDWICH PROJECT Wednesday, November 26th 5:30PM in the Rectory. St Francis Xavier parishioners will be making turkey sandwiches and snacks to distribute to the hungry in our community. We are seeking volunteers to help us assemble the bags on Wednesday night, and to donate food and supplies. After the bags are assembled, we invite all parishioners to attend the 7:30pm Thanksgiving Vigil Mass together. Email Patrice Kugler to get involved.
ST. FRANCIS XAVIER PARISH BOOK OF THANKS Well ahead of Thanksgiving, each parishioner / family may take a blank cut-to-size page from a table at the back of the church, bring it home, and on the page express heartfelt thanks to God in any way at all. When this is done, you simply place your page in the book. Then, as we gather in the church on Thanksgiving Eve, our Book of Thanks will be carried to the altar at the time of bringing up the gifts. It will be on display from Thanksgiving through Advent when, together, we await the greatest Gift of all.
PICTURES FROM OUR PARISH
Check out the Zenfolio pictures site for St Francis Xavier.


[Note: Zenfolio requires a free registration of its visitors, just name and email address.]
ST. FRANCIS XAVIER SURVEY RESULTS We launched a Parish Participation and Engagement survey this spring when we distributed paper surveys after Palm Sunday Mass and circulated a Survey Monkey survey to our Parish e-mail distribution list. We are pleased to share that with 90 survey respondents, we reached our response rate goal of approximately 20%. Thank you for taking the time to respond and to share your candid and valuable perspectives and suggestions.
ST FRANCIS XAVIER ON FACEBOOK!
Come share your thoughts, pictures, video etc. with the online community
SUPPORT ST. FRANCIS AUTOMATICALLY
Automated Giving: Visit the ParishPay Website or call 1-866-PARISH-1 for more information or to sign up. Here are their Frequently Asked Questions on giving.