ANOINTING OF THE SICK
Saturday, July 4th at 9:00AM COME TO ME and I will give you peace. These words of Jesus invite all who are sick or suffering to turn to Him in times of need. Please join us for our monthly Mass of Anointing if you are planning a hospital stay or have been troubled by sickness recently. Take this opportunity of prayer to receive the grace and strength of this sacrament of healing.
FREE SUMMER CONCERT IN THE GARDEN Friday, July 24 from 7:30 to 9:00 PM Join St. Francis Xavier Parish for our 3rd Annual Concert in the Garden, featuring violinist Samantha Gillogly. Enjoy a relaxing evening of music with neighbors and fellow parishioners. Refreshments will be available. Bring your own blanket or lawn chair. In the event of rain, the concert will be held in the church.
SOCIAL JUSTICE ANNOUNCEMENT St. Francis Xavier and St. Augustine parishioners will again be volunteering at the respite shelter housed at our neighboring church, Old First Reformed, which is on 7th Avenue between Carroll and President. This will be our 5th year joining a variety of congregations from across Park Slope to provide a nutritious dinner, fellowship and a safe, clean, comfortable place to sleep for 10 -12 male guests per night. The overall shelter program is coordinated by CAMBA:
There are two different volunteer opportunities each evening Monday through Friday.
1. Work with others to provide dinner ( 3-5 people needed to collaborate on this each evening.) or
2. Stay overnight with another volunteer ( 2 people needed each overnight.)
St. Augustine is committed to staffing the week of August 25th. St. Francis Xavier has committed to staffing the week of July 13th. Join us in putting our faith to work this summer. For more information and to volunteer, please contact: Regie Hawkey.
SUMMER BREAK Our Children's Liturgy of the Word program at the 9:30 Mass on Sundays is taking a break until September. This program is a special blessing for our children and families. We are so grateful to our catechists who help the children each week better understand the scriptures
PILGRIMAGE TO PHILADELPHIA FOR THE EIGHTH WORLD MEETING OF FAMILIES ~Wednesday, September 23, 2015
The School of Evangelization of the Diocese of Brooklyn is sponsoring a one-day pilgrimage to the Eighth World Meeting of Families in Philadelphia. There is limited coach space, so please register earlier than later. Registration forms are in the vestibule. More details in the bulletin. Please contact the School of Evangelization if you have any questions.
A MESSAGE FROM ST. VINCENT de PAUL SOCIETY Can you please help us? The St. Vincent de Paul cupboard is low on food. We are in need of some canned vegetables, tuna, macaroni and cheese, oatmeal, peanut butter and jelly, and instant coffee. Thank you and may God bless you!
PICTURES FROM OUR PARISH
Check out the Zenfolio pictures site for St Francis Xavier.
Saluting Father Cowan on his 50 years as a Priest: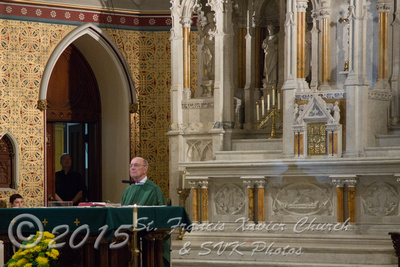 [Note: Zenfolio requires a free registration of its visitors, just name and email address.]
SUPPORT ST. FRANCIS AUTOMATICALLY
Automated Giving: Visit the ParishPay Website or call 1-866-PARISH-1 for more information or to sign up. Here are their Frequently Asked Questions on giving.
ST. FRANCIS XAVIER SURVEY RESULTS We launched a Parish Participation and Engagement survey this spring when we distributed paper surveys after Palm Sunday Mass and circulated a Survey Monkey survey to our Parish e-mail distribution list. We are pleased to share that with 90 survey respondents, we reached our response rate goal of approximately 20%. Thank you for taking the time to respond and to share your candid and valuable perspectives and suggestions.