THANKSGIVING MASS Join us at our parish Thanksgiving Mass on the EVE of Thanksgiving, Wednesday at 7:30PM. Blessings to you now as you continue on your way.
JACK'S SANDWICH PROJECT Wednesday, November 25th St. Francis Xavier parishioners will be making turkey sandwiches and snacks to distribute to the hungry in our community. We are seeking volunteers to help us assemble the bags on Wednesday night, and to donate food and supplies. We would love for you to join us in this effort; email Patrice Kugler if you can help.
NEW ISSUE OF OUTREACH Enjoy the new and improved look of our relaunched Parish Newsletter! Printed copies available in the vestibule.
VOLUNTEERS NEED FOR FOOD PANTRY DELIVERIES Thursdays Volunteers are needed to help with food deliveries on Thursdays for the St. Augustine Helping Hands Food Pantry. There are usually two big deliveries a month — 75 to 150 cases of food. Volunteers are needed to help store the food. If available, please leave message at food pantry: 718-783-3132, ext. 42, or send email to: helpinghandsfp@gmail.com
SERVING OTHERS Monday evenings at 5:30pm Visit the elderly at Hopkins Nursing Home in Boreum Hill. Prepare meals and visit the homeless near Grand Central Station on Tuesday evenings at 4:30PM. If you are interested in learning more, email Ashley Moloney.
ST VINCENT DE PAUL PANTRY NEEDS DONATIONS Can you please help us? The St. Vincent de Paul at St. Francis Xavier cupboard is low on food. We are in need of some canned vegetables, tuna, macaroni and cheese, oatmeal, peanut butter and jelly, and instant coffee. Please bring donations to the rectory or to mass on Sundays.
IN NEED OF SOME PRAYERS? St. Francis Xavier is happy to announce LaMP: Loving and Merciful Prayers. A Support Ministry, beginning now in our parish. You can request prayers for your private intentions from an anonymous prayer partner by two different methods: 1. Look for our prayer request forms in the back of the church. Place your request in the marked box.
OR
2. Submit your prayer request through our email address: LAMP@stfxbrooklyn.org. A coordinator will assign a prayer partner for you who will pray for you and your intention for one month.
If you are interested in being a prayer partner yourself, please fill out a volunteer form available in the back of the church and leave it inside the LAMP box. Please know that our prayers will be with you.
PICTURES FROM OUR PARISH
Check out the Zenfolio pictures site for St Francis Xavier.
Saluting Father Cowan on his 50 years as a Priest: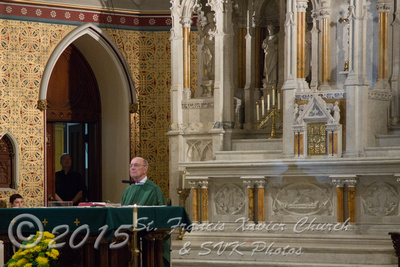 [Note: Zenfolio requires a free registration of its visitors, just name and email address.]
SUPPORT ST. FRANCIS AUTOMATICALLY
Automated Giving: Visit the ParishPay Website or call 1-866-PARISH-1 for more information or to sign up. Here are their Frequently Asked Questions on giving.
ST. FRANCIS XAVIER SURVEY RESULTS We launched a Parish Participation and Engagement survey this spring when we distributed paper surveys after Palm Sunday Mass and circulated a Survey Monkey survey to our Parish e-mail distribution list. We are pleased to share that with 90 survey respondents, we reached our response rate goal of approximately 20%. Thank you for taking the time to respond and to share your candid and valuable perspectives and suggestions.