We are... A Parish Family - Gathered in Faith - Renewed in the Spirit and Sent Forth to Serve
Mass Schedule
Saturday
5:00 PM
(Sunday Vigil Mass)
Sunday
9:30 AM
12:15 AM
Monday to
Thursday
9:00 AM
Friday
9:00 AM
Communion service only
Saturday
9:00 AM Mass

Holy Days: consult the bulletin

Children's Liturgy of the Word is held every Sunday at the 9:30 AM Mass

Confession: Saturday 4:30 PM

Miraculous Medal Novena: Monday - 9:00 AM Mass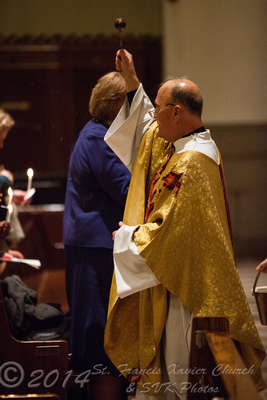 OPEN THE DOORS According to feedback from our parishioners, some of you expressed a desire to have St. Francis Xavier open to our community for more hours during the week. To make it happen we need your help -- we are looking to set up teams of volunteers willing to commit to being in church on Saturdays for a couple of hours, on a rotating basis, with one or more partners. To find out more information, or to submit your name, please contact Sister Helene.
VOLUNTEERS NEEDED AT RESPITE SHELTER July and August Old First Reformed Church (7th Ave. and Carroll St.) will be hosting a respite shelter for the homeless, run in conjunction with local non-profit CAMBA. The Old First site will provide a safe bed and a warm dinner to around 12 guests each night. As part of St. Francis Xavier's work on social justice issues, our parish has committed to helping with the shelter for the week of August 18th to 22nd. Please contact Regie Hawkey to sign up or request more information.
RITE OF CHRISTIAN INITIATON OF ADULTS
Begins in September The RCIA program provides an opportunity for interested non-Catholics to learn about the Catholic Faith and for baptized Catholics who have not yet received Confirmation or Eucharist to prepare to do so. If you or someone you know might be interested in finding out more about the RCIA process, please contact Sister Helene. Spread the good news about this process!
ST. FRANCIS XAVIER SURVEY RESULTS Please refer to this document summarizing parishioners' responses to the survey which was engaged in the spring.
CALLING ALL ST. FRANCIS XAVIER ALUMNI Save the date: Sunday, September 21, 2014. Celebrating the 100th Anniversary of Catholic education in Park Slope. If you are interested in being a part of the planning committee, please call the school @ 718-857-2559 or email us.
PICTURES FROM OUR PARISH
Check out the Zenfolio pictures site for St Francis Xavier.


[Note: Zenfolio requires a free registration of its visitors, just name and email address.]
ST FRANCIS XAVIER ON FACEBOOK!
Come share your thoughts, pictures, video etc. with the online community
SUPPORT ST. FRANCIS AUTOMATICALLY
Automated Giving: Visit the ParishPay Website or call 1-866-PARISH-1 for more information or to sign up. Here are their Frequently Asked Questions on giving.