We are... A Parish Family - Gathered in Faith - Renewed in the Spirit and Sent Forth to Serve
Mass Schedule
Saturday
5:00 PM
(Sunday Vigil Mass)
Sunday
9:30 AM
12:15 PM
Monday to
Thursday
9:00 AM
Friday
9:00 AM
Communion service only
Saturday
9:00 AM Mass

Holy Days: consult the bulletin

Children's Liturgy of the Word is held every Sunday at the 9:30 AM Mass

Confession: Saturday 4:30 PM

Miraculous Medal Novena: Monday - 9:00 AM Mass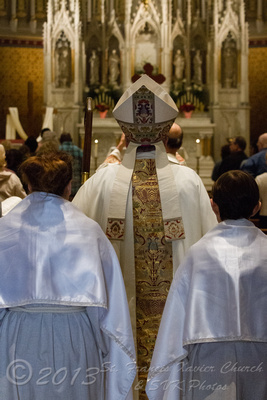 FAITH FORMATION PROGRAMS FOR CHILDREN AND TEENS Classes begin for grades 7 and up on September 22rd. Classes for grades K through 6 begin on September 23rd. If your child is not yet registered, contact Sister Helene as soon as possible.
We need more help for this program. If you would like to help out, please contact Sister Helene
CHILDREN'S LITURGY OF THE WORD Our program at the 9:30 Mass on Sundays will resume September 17. If you would like to help out with the program this year, email Sister Helene or speak to a committee member. We always can use more help in order to keep this special ministry going well. Please consider joining us.
ST. FRANCIS XAVIER HAWKS HAVE NAMES We have a pair of Hawks nesting in our church tower! We have named the parents Noah and Namaa. The babies are Park and Slope.
WINTER ISSUE OF OUTREACH (pdf, 1.2MB). Printed copies available in the vestibule. Browse back issues.
ST. AUGUSTINES' HELPING HANDS FOOD PANTRY Volunteers are needed on Thursday and Saturday mornings at St. Augustines' Helping Hands Food Pantry. Thursday mornings from 10AM to noon to help put away and/or move food. Some lifting involved, moving the cases of food. Saturday mornings when the food pantry is open, from 10AM to noon, volunteers are needed to help register clients. If you are interested in helping, please send email to: helpinghandsfp@gmail.com
SERVING OTHERS Monday evenings at 5:30pm Visit the elderly at Hopkins Nursing Home in Boreum Hill. Prepare meals and visit the homeless near Grand Central Station on Tuesday evenings at 4:30PM. If you are interested in learning more, email Ashley Moloney.
IN NEED OF SOME PRAYERS? St. Francis Xavier is happy to announce LaMP: Loving and Merciful Prayers. A Support Ministry, beginning now in our parish. You can request prayers for your private intentions from an anonymous prayer partner by two different methods:
1. Look for our prayer request forms in the back of the church. Place your request in the marked box. OR
2. Submit your prayer request through our email address: LAMP@stfxbrooklyn.org. A coordinator will assign a prayer partner for you who will pray for you and your intention for one month.
If you are interested in being a prayer partner yourself, please fill out a volunteer form available in the back of the church and leave it inside the LAMP box. Please know that our prayers will be with you.
SUPPORT ST. FRANCIS AUTOMATICALLY
Automated Giving: Visit the ParishPay Website or call 1-866-PARISH-1 for more information or to sign up. Here are their Frequently Asked Questions on giving.