HAPPY EASTER
EARTH DAY BLESSING OF THE GOWANUS CANALFriday, April 22 at 3:30pm Join Fr. Patrick Boyle and the community of Our Lady of Peace Church & the St. Francis College community for a simple Rite of Blessing over the waters of the Gowanus Canal. Those who wish may gather in front of Our Lady of Peace Church at 3PM and walk together to the Carroll Street Bridge. Following the blessing there will be some light refreshments back on the church grounds.
SUNDAY MOVIES AT ST. FRANCIS We are pleased to invite you to a film series here at St. Francis Xavier! The theme is Oscars 2016, and here are the dates and the movies:
Sunday, April 24th at 2:00pm: Brooklyn (PG-13), nominated for Best Picture and Best Actress, Saoirse Ronan.
Sunday, May 1st at 2:00pm: Bridge of Spies (PG-13), nominated for Best Picture and winner of Best Actor in a Supporting Role, Mark Rylance.
Movies are free of charge, and popcorn and beverages will be provided. Because space is limited, we are asking people to
sign up
in our vestibule. The films will be shown in our screening room in the basement of the rectory. Children attending movies must be accompanied by an adult. Come with family, friends, and neighbors, and join us for three fun afternoons of films!
AN EVENING OF ART AND MUSIC
Monday, April 25th at 7:30PM Art historian & Parishioner Dr. Francis Greene, Professor Emeritus at St. Francis College, discusses the theme of mercy in paintings. The choir, under the direction of Dr. Michael Kaminski, sings works inspired by the theme of mercy. All are welcome.
HOSPITALITY WEEKEND April 30th & May 1st Join your fellow parishioners for some coffee, cookies and pleasant conversation after Masses the weekend of. We hope that these regular times of hospitality will help us to strengthen our bonds as God's family and give us a chance to know each other better. May God draw us ever nearer to Himself and each other.
WINTER ISSUE OF OUTREACH Enjoy the new and improved look of our relaunched Parish Newsletter! Printed copies available in the vestibule. Browse back issues.
PICTURES FROM OUR PARISH
Check out the Zenfolio pictures site for St Francis Xavier.
Saluting Father Cowan on his 50 years as a Priest: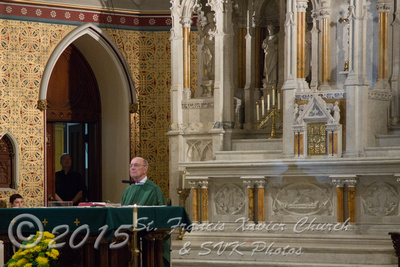 [Note: Zenfolio requires a free registration of its visitors, just name and email address.]
VOLUNTEERS NEED FOR FOOD PANTRY DELIVERIES Thursdays Volunteers are needed to help with food deliveries on Thursdays for the St. Augustine Helping Hands Food Pantry. There are usually two big deliveries a month — 75 to 150 cases of food. Volunteers are needed to help store the food. If available, please leave message at food pantry: 718-783-3132, ext. 42, or send email to: helpinghandsfp@gmail.com
SERVING OTHERS Monday evenings at 5:30pm Visit the elderly at Hopkins Nursing Home in Boreum Hill. Prepare meals and visit the homeless near Grand Central Station on Tuesday evenings at 4:30PM. If you are interested in learning more, email Ashley Moloney.
ST VINCENT DE PAUL PANTRY NEEDS DONATIONS Can you please help us? The St. Vincent de Paul at St. Francis Xavier cupboard is low on food. We are in need of some canned vegetables, tuna, macaroni and cheese, oatmeal, peanut butter and jelly, and instant coffee. Please bring donations to the rectory or to mass on Sundays.
IN NEED OF SOME PRAYERS? St. Francis Xavier is happy to announce LaMP: Loving and Merciful Prayers. A Support Ministry, beginning now in our parish. You can request prayers for your private intentions from an anonymous prayer partner by two different methods: 1. Look for our prayer request forms in the back of the church. Place your request in the marked box.
OR
2. Submit your prayer request through our email address: LAMP@stfxbrooklyn.org. A coordinator will assign a prayer partner for you who will pray for you and your intention for one month.
If you are interested in being a prayer partner yourself, please fill out a volunteer form available in the back of the church and leave it inside the LAMP box. Please know that our prayers will be with you.
SUPPORT ST. FRANCIS AUTOMATICALLY
Automated Giving: Visit the ParishPay Website or call 1-866-PARISH-1 for more information or to sign up. Here are their Frequently Asked Questions on giving.